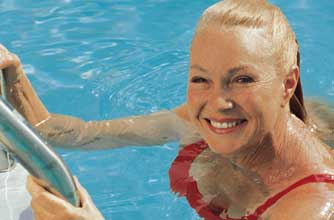 Back lifts
Lie on your stomach with your arms straight over your head. Begin by lifting your right arm and your left leg slightly off the ground. Lower and repeat on the other side. Do 20 reps.

Arm circles
The shoulder is a complex joint that lies idle most of the time - so treat it to daily shoulder circles as often as you can to wake lazy 'wing' muscles. Circle both arms together in front of you, using the whole arm.


Swimming
One of the easiest and most effective ways to tone the back and lose the bra bulge is by swimming the breaststroke. This exercise targets the abdomen, pectorals and back muscles. You should do between 20 and 30 laps of breaststroke at least three times a week.
If you can't beat it, hide it!
1 Wear a sleek body.
2 Stand up straight - arching your back minimizes the bulges instantly.
3 Make sure your bra is actually the right size.
4 The same goes for tops - cool, crisp shirts with a fitted waist will skim those rolls.
Woman's Own's diet guru
Monica Grenfell
has a degree in food science and nutrition, and has published a host of best-selling books, including the famous 5 Days To A Flatter Stomach.
Continued below...
There's another unmissable diet by Monica Grenfell in this week's Woman's Own, on sale every Tuesday, just 87p.
Subscribe to Woman's Own and save up to 30%!