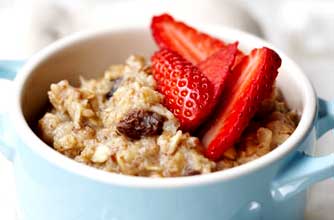 Continued below...
Breakfasts:
All about 300 cals
30g muesli with nuts and dried fruit, skimmed or soya milk


Boil-in-bag kippers with 1 slice brown bread and olive oil spread


Portion smoked haddock with 1 poached egg


Grilled sardines on 1 slice toast


Tropical fruit salad and 1 glass fresh orange juice


SnackLunches:
All about 300-350 cals
Sardines on toast


Mixed salad including ½ avocado, 1tbsp toasted pine nuts and grated carrot, with olive oil dressing


Cold salmon and salad


Smoked mackerel salad


Avocado and walnut sandwich in 2 slices multigrain bread


½ avocado filled with crabmeat or prawns and olive oil dressing


SnackDinners:
all about 400-450 cals
3-egg Spanish omelette (tomatoes, peppers, onions, etc) with salad


Grilled tuna steak with roasted Mediterranean vegetables


Poached salmon with carrot and sweetcorn salad, and spinach


Vegetable layer bake (carrots, broccoli, potatoes, tomatoes with cheese topping)


Baked salmon, served with 2tbsp puy lentils and salsa dressing


Baked large tomatoes, filled with mince and tomato or vegetable rice, and topped with cheese and grilled


Desserts:
about 120 cals
Remember...
Calorie counting is vital. Cut down to around 1,200 a day, and keep a food diary. You'll lose 2lb a week by diet and a further 1lb through exercise - not bad!