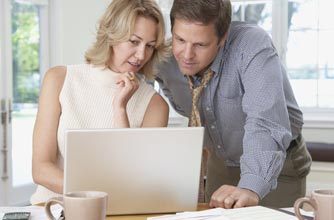 How to help him
If your partner is affected, be supportive and encouraging. 'Women tend to scoff at their partner's midlife crisis, but expect their own to be taken very seriously, which isn't really fair, is it?' says Paula Hall. 'Anyway, why shouldn't he buy a motorbike at 50? Providing he can afford it!'
How to help your relationship
Around 30% of marriages
break up
between the ages of 40-60, so don't be complacent.
Put the spark back
by making your relationship the priority. 'For years you've been focused on the children and their needs, now it's time to focus on yourselves again,' says Paula.
Be open minded about trying something new together. People change, so don't assume he will have the same likes and dislikes he had 15 years ago. Maybe he won't want to do
yoga
with you, but he may want to play badminton, and you won't find out unless you ask him.
Accept that you're changing and he's changing too, but that change can be for the better.
Continued below...
You've still got a long time left, so make the most of it. Get excited about your life!