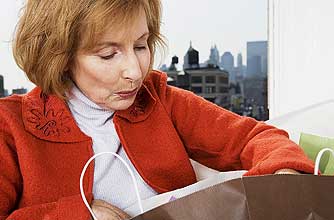 'My daughter left home and a few weeks later a new manager arrived at the shop were I worked. She was 32, slim and fashionable. It sounds stupid, but I'd never had a boss who was younger than me and it really began to get me down.
I suddenly felt old, fat and frumpy, stuck in a job that bored me, and I desperately missed chatting with my daughter when I got home.
Things came to ahead when I blew £120 on a beautiful pale blue cashmere jumper hoping it would make me feel more confident at work.
My husband went mad at the price, but when I started crying and told him how miserable I felt, he was really shocked. We both realised we'd been neglecting each other.
With his encouragement I looked for another job. I'm now working at a local primary school as a teaching assistant and absolutely love it. Being with children all day is exhausting, but it makes me feel young again!'
Gillian Greenway, 49
More on relationships
-
How to mend a broken relationship
-
Common relationship problems answered
-
7 secrets of a good marriage
-
Divorce what happens next?
Continued below...
Need help?
-
Mind: Mental health charity
-
Menopause Matters
-
Relate: Marriage and relationship support
-
British Association for Counselling and Psychotherapy
-
Male Health