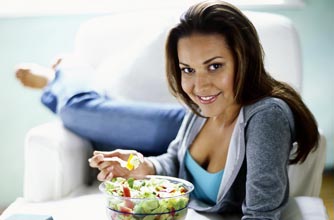 Food nutritionist Monica Grenfell's food separation diet will show you what to eat when - helping you to drop a stone in a month and get back into those jeans!Monica says:
I've got a 'Get back into your jeans' diet for you, which will see those pounds and inches fade fast! It's a great system I call food separation. Similar to food combining, it's less fussy and you won't get obsessed with every mouthful.
You just need to get the hang of recognising proteins and starchy foods, and eating fruit separately. It's brilliant and it's simple.
Each main meal is around 400 calories, with breakfast and dessert adding another 200 calories, so you'll lose a comfortable 2lb a week.
Add a further hour's exercise every day, and you'll lose another 2lb a week, giving you an impressive loss of one stone in a month!
Continued below...
The 5 golden rules
- Eat groups 1 & 2 together
- Eat groups 2 & 3 together
- Don't mix groups 1 & 3
- Make sure your dinner is from groups 2 & 3
- Eat group 4 alone