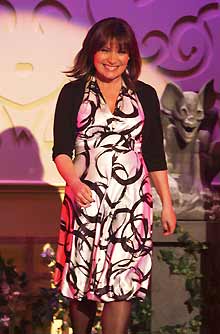 Type 2 - StubbornCelebrity type 2
Lorraine Kelly. She started the year keen to drop a dress size from a 14.
Who's it for?
Laid-back partygoers, loved-up couples and pig-out pregnancies. You typically have 15-25lb that yoyoes on and off. You lose half the weight, but then gain it back - and more.
Good points
You'll lose up to 25lb in six to eight weeks. It allows carbs in the evening - when you like them most.
Drawbacks
None.
Cals per day
1000

Type 2 menus:

Breakfasts - 250 cals
- Special K, skimmed milk, half an apple
- 2 poached eggs, 1 slice toast
- Fresh fruit salad, banana, yogurt

Lunches - 300 cals
- 3 slices ham in small roll, portion salad
- Grilled barbecue steak, salad, 6 chips
- 3tbsp baked beans on 1 slice toast

Dinners - 400 cals
- Grilled plaice or cod, peas and carrots, 3 small boiled potatoes
- Mixed bean curry, rice, salad
- ½ avocado filled with prawns, 1tbsp dressing, salad
- 226g jacket potato with 2 slices cheese, salad



Continued below...



Desserts
Fruit (see calorie counter)