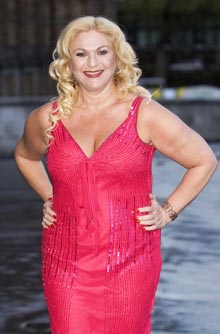 Type 3 - Slow and steadyCelebrity type 3
Vanessa Feltz. She's veered between a size 24 and a size 12 over the years.
Who's it for?
Long-term, very overweight people who have been on many diets.
Good points
You get three substantial meals a day and keen cooks can experiment. You should lose 3-5st in 10 months
Drawbacks
No snacks!
Cals per day
1,200.

Type 3 menus:

Breakfasts - 300 cals
- 2 shredded wheat, skimmed milk, fruit
- Yogurt with prunes. 2 slices toast, olive oil spread
- Porridge, honey, ½ banana. Glass fresh orange juice

Lunches - 400 cals
- Jacket potato with tuna and salad. Grapes
- Brown rice salad with mixed veg and soy sauce. Pear
- Cottage or Cheddar cheese and walnut sandwich. Apple
- Large bowl lentil soup with wholemeal roll. Apple

Dinners - 400 cals
- Grilled plaice or cod, peas and carrots, 3 small boiled potatoes
- Mixed bean curry, rice, salad
- ½ avocado fi lled with prawns, 1tbsp dressing, salad
- 226g jacket potato with 2 slices cheese, salad



Continued below...



Desserts
Fruit (see calorie counter)