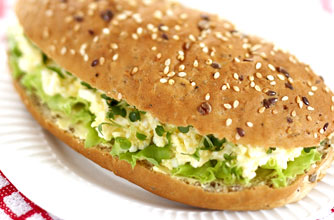 If you're eating out, potatoes are the healthiest choice. Try with beans or chilli for a good, high-fibre, low-fat meal.
Mounds of coleslaw and lashings of creamy dressings and oil make salads taste better, but they're loaded with calories for hardly any nutritional return.
Lunch swaps:
Instead of:
Cheese salad baguette:
726 calories; 24.7g fatSwap for:
Round of wholemeal egg mayonnaise sandwiches:
370 calories, 9.4g fatInstead of:
Ploughmans with cheese, pickle and bread:
1037 calories, 37.8g fatSwap for:
Jacket potato and baked beans:
354 calories, 0.1g fat
Continued below...
Top tip:
Avoid high-calorie dressings such as mayonnaise, salad cream, sour cream, blue cheese etc. Use reduced fat mayonnaise (25 cals per tbsp), a squeeze of lemon juice (2 cals) or calorie-reduced Thousand Island dressing (30 cals per tbsp).