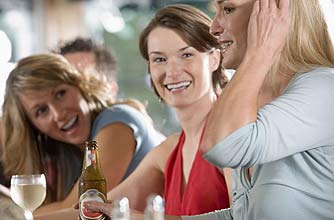 Your allowances:
- 2 bottles (6 glasses per bottle) of red, dry white or rosé wine, or champagne per week (100 cals a glass)
- 200g plain, milk, fruit and nut or whole nut chocolate per week (170 cals per 30g)
On this diet:
1. No messing about with a measly square of chocolate here and there - you have your week's supply and you decide when to have it. But when it's gone, it's gone!
2. You will be consuming 9,800 calories a week, 2,400 of which will come from chocolate and wine. That means the other 1,057 calories a day must be good, fresh, low-calorie foods.
3. As both items are sugarladen, you need to eat proteins to lower your glycaemic response. So stock up on lean cold meats, chicken and fish.
4. Drink six glasses of water a day between meals.
5. Drink responsibly. Don't save alcohol for a binge, but you can have 2-3 small glasses a day.
Continued below...
6. Eat chocolate any time - after a meal or between meals, but space it out.