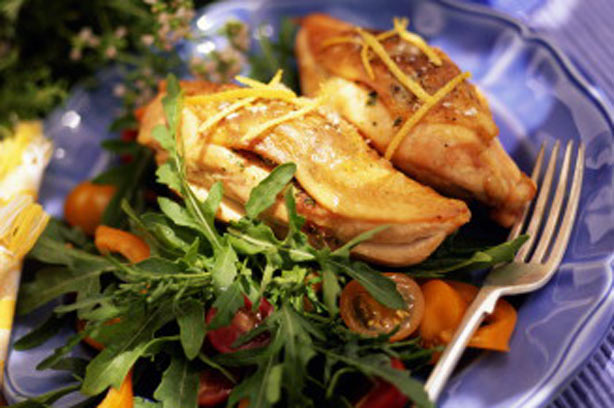 Before noon - 200 cals
Breakfast and mid-morning every day:
- The European way is to only eat fruit before noon, and it's a good rule. Have a nice selection and try to include low-sugar varieties such as blueberries, raspberries and strawberries. But remember, it all has calories - so don't go too mad.
- To drink: Tea, coffee or water.
Lunches - 200 cals
Serve these with plenty of mixed colourful salad:
- 50g lean cold meat
- Hard-boiled egg, sliced
- Small tin of tuna chunks and 1tbsp sweetcorn
- 100g fresh or frozen prawns
- Fillet of smoked mackerel
Dinners - 500 cals
Dinners should be carb-rich, but keep portions small and never have second helpings - it's like having two meals. Choose three winter vegetables from this list. Root vegetables have a lot of fibre, ideal to speed detoxing:
- 1tbsp butternut squash
- 1tbsp creamed parsnip (tiny amount of butter)
- 2tbsp mashed carrot and swede
- 2tbsp boiled or stir-fried carrots
- 1tbsp mashed turnips
- Medium standard or sweet potato, baked in jacket
- 2tbsp cooked beetroot
- Grated celeriac
5 nights a week: Have 180g fish (cod, haddock, salmon, trout etc.) OR 180g skinless poultry, grilled, roasted or baked.
2 nights a week: 180g meat, eg, pork, lamb, steak, beef, mince etc., grilled or roasted with very little fat.
Every night: A small plain yogurt with fruit for dessert.
Vegetarian options
- 180g linguini with chilli oil and stir-fried vegetables
- Winter salad - grated raw vegetables e.g., cabbage, carrots, beetroot, celeriac - with grated apple, 1 tbsp sultanas and 6 broken walnuts in a vinaigrette dressing
- Layered vegetables topped with parsnip mash and cheese, grilled
- Spanish omelette
- Mushroom risotto
Where to next?
Chocolate's good for you!
Find your right diet style
Woman's Own Better Body Club
Continued below...
Recipes to try:
Thinner dinner menus
Chocolate recipes