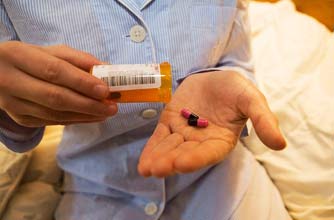 Nurofen
What's it good for?
It relieves
headaches
,
dental pain
,
period pain
,
migraine
,
backache
, rheumatic pain, muscular pain,
neuralgia
,
cold and flu symptoms
and feverishness.
What does it contain?
200mg of ibuprofen.
Spend or save?
Save
'Plain Nurofen is just ibuprofen so you could buy ibuprofen if it had the same amount and dose, but Nurofen Plus has codeine in it, which is a much stronger pain killing ingredient and can only be sold by a pharmacist after a consultation.'
Anadin
What's it good for?
It's a range of painkillers for a variety of conditions such as period pain, migraine, joint pain, headache, colds and flu. It comes in many forms such as soluble or in a capsule, and in different strengths.
What does it contain?
All the varieties of Anadin contain different painkilling ingredients such as ibuprofen, paracetamol and
aspirin
. Some varieties are only available from your pharmacist.
Spend or save?
'You have to look carefully at the packaging because Anadin is a brand name for a variety of painkillers. Some Anadin tablets contain aspirin, others paracetamol or ibuprofen.
'Some people are advised to avoid aspirin or ibruprofen and if you have asthma, stomach ulcers, high blood pressure liver or kidney disease then you should avoid these two ingredients in pain killers and opt for paracetamol based medicine.
'Medicine with aspirin should never be used for children under 16 unless specifically advised by your doctor.'
Dispirin
What's it good for?
It's a painkiller that is useful for the relief of pain, reducing inflammation and lowering temperature.
Aspirin
it can also reduce the inflammation caused by rheumatism and lumbago. In very low doses can also be used to help prevent
blood clots
in patients who have had a
heart attack
,
stroke
or heart bypass surgery or who have
angina
.
What does it contain?
Aspirin
Continued below...
Spend or save?
Save
'You can buy cheaper version of aspirin but you might prefer to spend a bit more on a tablet that is coated so it goes down easier or that is a certain shape or size, especially if you are taking a low dose regular for blood thinning. And if you are taking it for an on-going health problem then speak to you GP because you should be able to get it for free.'