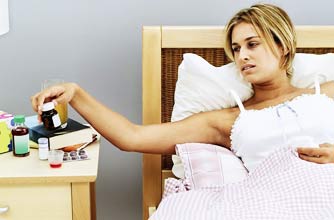 Lemsip Cold & Flu Max Strength
What's it good for?
All the symptoms of a
cold or flu
, from a runny nose and shivers to a fever and
headaches
.
What does it contain?
Paracetamol, phenylephrine hydrochloride, guaifenesin, ascorbic acid
Spend or save?
Save
'Many of the cold and flu remedies differ widely from each other so you need to look at the packaging and you should discuss your needs with a pharmacist because you might find that one brand is better for chesty coughs, for example, than another brand.'
Strepsils
What are they good for?
To soothe a
sore throat
.
What does it contain?
Each lozenge contains 8.75mg of an anti-inflammatory drug called flurbiprofen.
Spend or save?
Save
'You could probably save on these sorts of lozenges but you must look at the packaging because some throat pastilles just soothe, others have anti-sceptic properties. There are also sprays that you can get now, which are very good.'
Benilyn
What's it good for?
It's good if you've got a
chesty cough
or mild chest infection. It's a cough syrup that contains an anti-histamine and a decongestant to clear the chest and throat and loosen phlegm.
What does it contain?
The active ingredients are diphenhydramine hydrochloride, levomenthol, ammonium chloride
Continued below...
Spend or save?
Save
Kathleen says, 'If you want to look for an own-brand version of Benilyn you need to look carefully at the packaging and whether it's the right product for you - I'd say with the right advice from a pharmacist you could buy a cheaper version.'