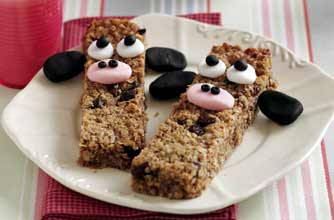 Chocolate and crisps give kids a huge sugar high - sometimes, too much of one! Instead, try these energy-boosting snack and lunchbox ideas to keep them going.
Moo-sli bars
(pictured)
Peanut butter cookies
Fruit and nut bliss balls
Lunchbox ideas
Tasty tuna sandwiches
Ham or beef pitta pockets
Houmous, watercress and grated carrot sandwich
Continued below...
Where to next?
Back to the start of this feature
10 ways to get more energy from food
Why water is so good for you