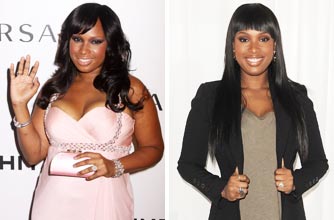 Weight Watchers and the NHS and are trialling a weight-loss scheme, where GPs can refer overweight patients to slimming clubs like Weight Watchers.
Nutritional expert Dr Susan Jebb of the Medical Research Council, who studied the scheme, found that programmes like
Weight Watchers
could help patients lose twice as much weight in a year than patients given GP-led weight-loss advice.
Dr Susan Jebb says: 'It's having a weekly weigh-in as well as the support of the group, that seems to work. People are more likely to stick at it.'
Celebrity Weight Watchers fans
include curvy American Idol finalist and Dreamgirls' Oscar winner,
Jennifer Hudson
, who dropped an amazing five dress sizes with Weight Watchers. Jennifer says 'I decided to try
Weight Watchers
because I wanted to make healthy changes, and I needed a plan that would fit in with my busy life.'
What is the Weight Watchers Discover Plan?
Weight Watchers
is a diet with a difference. It's based around four main principles: food (eating the right foods), behaviour (recognising whether you're hungry or not and knowing when to stop eating), support (attending the group meetings or being an online member) and exercise (doing more activity in your everyday life).
As well as the famous 'Points' plan there's also a new Filling Foods list and 'weight training' advice. This isn't lifting weights at the gym, it's about helping you to listen to your body and suss out when you're eating for hunger or for other reasons.
The goal of the
Weight Watchers Discover Plan
is to help you change your eating habits and lifestyle for good so that you keep the weight off.
If you join Weight Watchers now, you'll be following their new
ProPoints plan
. The rest of this article refers to the Weight Watchers Discovery plan (their previous plan) but you can find out more about the
Weight Watchers Pro Points plan here
.
How can I do the Weight Watchers Discover Plan?
You can be an
online member
or you can go to regular
Weight Watchers meetings
.
On the Discover Plan they recommend that you fill in a food and drink diary and that you follow the diet, so when you're hungry choose from the Filling Foods list, such as breakfast cereals, lean meat and low-fat dairy products. and stick to your personal number of Points.
You should do some
activity
. If you're just not one of those people who can spend hours on a treadmill, don't worry, Weight Watchers can help you to be more active in your day-to-day life. And they'll show you how to convert your activity into Points values, so you can eat more.
You'll be encouraged to look at why you're eating. Most of us eat for reasons other than just because we're hungry - sometimes we don't even know we're eating, or we don't think it counts, such as picking up leftovers from the kids' plates. This is something that the Weight Watchers Discover Plan can help you with.
Continued below...
What is the Points system?
Weight Watchers
has given every food, drink or meal a points value. Depending on your weight, how much you want to lose and how much exercise you do, you can have a certain number of points per day.