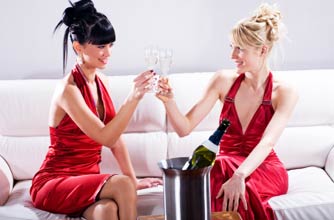 Food nutritionist Monica Grenfell shows you how to party without piling on the pounds with her plan!
You know the scene - it's a few days before Christmas and those extra mince pies are taking their toll. You used to glide through the silly season without an extra pound or inch in sight. But now it seems the days of being effortlessly, youthfully slim and glamorous are gone and losing a couple of pounds certainly wouldn't hurt.
Continued below...
But there are only 48 hours before the main event and surely you can't shed weight that fast - can you? Well, I'm here to tell you, yes, you can! I've pioneered this party panic diet and I guarantee that it really works. You'll lose pounds of unwanted weight because my high-fibre plan gathers up waste and whooshes it out of your system, leaving you up to 5lb lighter in just 48 hours!