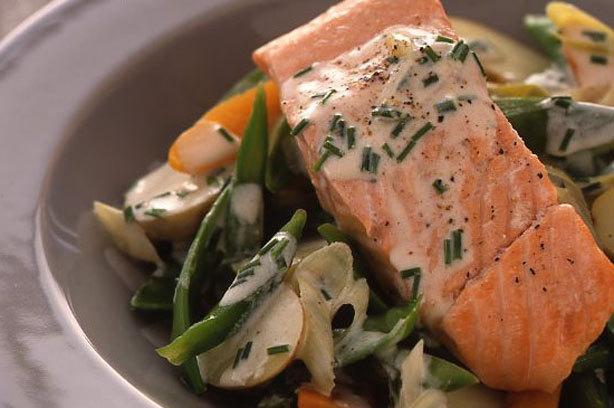 Breakfast - every day
- Smoothie made with ½ papaya, ½ banana, 2tbsp yogurt, 200ml skimmed milk, 3 almonds, 2tsp honey whizzed in a blender OR 30g Bran Flakes, skimmed milk, 1tbsp blueberries and 3 sliced strawberries
- Water, herbal or green tea, fruit juice
Energy break
- Glass of skimmed milk, 2-3 slices cold chicken, 4 cherry tomatoes
Lunches
- 120-180g grilled or cold salmon, salad made with lettuce hearts, watercress and baby spinach, with olive oil and balsamic vinegar dressing
- Omelette made with 1 whole egg and 3 egg whites
- 300ml sweet potato, pumpkin or butternut squash soup, 1 granary roll and olive oil spread
- 100g cold cooked prawns on shredded lettuce, ½ avocado, diced, topped with 1tbsp mayonnaise mixed with 1tsp ketchup and a dash of Worcester sauce
- Water, herbal or green tea, fruit juice
Dessert for all days
- Salad of ½ papaya, 3tbsp blueberries and 4 strawberries
Energy break
Glass of skimmed milk, 10 strawberries, 6 walnuts
Dinners
- 168g grilled salmon, medium portion steamed vegetables (such as broccoli, asparagus, spinach, French beans), 1 medium sweet potato, baked (not if slimming), 112g steamed carrots
- Medium portion pasta with prawns and salmon added, 1tbsp creme fraiche, mixed green salad with dressing
- Salad made with ½ avocado, chopped, 100g prawns, mixed green salad, 2tsp mayonnaise dressing
- Medium baked sweet potato, 1tbsp half-fat soft cheese, tomato and cucumber salad
- Vegetable layer bake. Layer any amount of mashed carrots, broccoli, spinach (depending how many you are making it for) and top with mashed sweet potato and a sprinkling of Cheddar cheese. Grill to brown.
- Strawberries and yogurt
- Water, herbal or green tea, fruit juice
The rules!
- The diet lasts for 5 days. It is recommended that you follow it on weekdays.
- There's no point doing the diet if you smoke.
- Don't drink alcohol as it's dehydrating, but if you must, drink a glass of water for every unit consumed.
- Avoid all salted products, such as ham, smoked salmon, tuna in brine etc. Salt encourages water retention.
From Monica's MailbagQuestion:
'I've been a vegetarian for 25 years and now want to start eating meat again as I've found out I'm low in iron. Will it be a shock to my system and must I re-introduce it gradually?
Answer:
No, the body is very robust and will take what you throw at it. You're doing the right thing boosting iron through food, not tablets - but make sure it's red meat. Eating about 100g of it three times a week is enough.
Photos: Camera Press, IPC Images, MediaBlitz.
Diet guru Monica Grenfell has a degree in food science and nutrition, and has published a host of bestselling books, including the famous 5 Days To A Flatter Stomach. Contact her at PO Box 64, Oxon OX12 9GA or visit
www.monicagrenfell.co.uk
Continued below...
Where to next?
Find more diets here
Try the Woman's Own Good Mood Diet