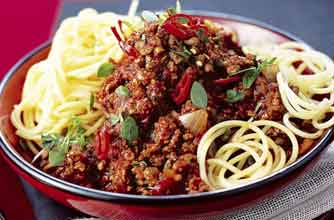 Slimming World has special membership for 11-to 15-year-olds, which is free if they attend with a parent or guardian.
The new Extra Easy plan is a healthy, balanced combination of the two other popular plans on the Slimming World Diet: Red plan and Green plan. See what you could eat in a day on the Extra Easy Plan.
Breakfast
Poached eggs, lean bacon and/or Quorn sausage and baked beans with grilled tomatoes and mushrooms.
Lunch
Roast beef, rocket leaves and tomato slices in a sandwich made with 2 slices of wholemeal bread.
Dinner


Slimming World Spaghetti Bolognese

Snacks
In-between meals you can snack on fresh or frozen fruit of your choice, very low-fat natural yogurt and vegetables.


Continued below...
We always find that dieting makes us crave naughty foods, so a diet where no foods are banned sounds like a dream. Find out more by signing up to the goodtoknow Diet Club trial - it's free for 7 days!