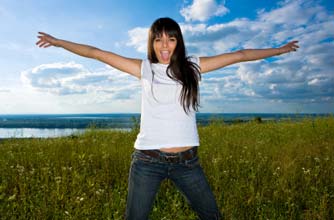 Food nutritionist Monica Grenfell shows you how to lose 9lb in three weeks!Next to your face, your upper body is more on show than anywhere else. Yet most of us neglect to look after it, so when the sun comes out, so do our flabby arms and bra bulges!
Before you say a diet can't target back fat, it can. Fat is lost from the back quicker than the abdomen or hips, so most weight loss shows in the upper body first - fantastic for looking great in strappy tops!
Continued below...
Even shedding a few pounds will streamline your back and arms, so in this part of my spring body blitz, I've devised a low-calorie diet that will prepare you for the sun, as well as helping you lose 9lb in three weeks.