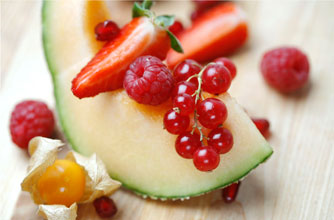 Start the programme on Friday evening...Friday
Before evening meal:
- Walk a mile in 15 mins briskly.
- The easiest way is to mark out half a mile from your home using a landmark like a shop, and walk there and back.
- 5 mins abdominal exercises
Evening meal:
- Protein salad made with 170g salmon fillet, 170g chicken breast or 170g Quorn on mixed salad
Dessert:
- Hot pineapple with yogurt
Saturday
Breakfast:
- Sachet of instant oats, made with water as directed on the packet and a little skimmed milk
- Fruit salad made with 1 sliced banana, 1tbsp flaked almonds, 2 strips mango, cubed
Mid-morning:
- Bonus milkshake
Lunch:
- 1/2 melon filled with raspberries, blueberries and 1tbsp cottage cheese (optional)
After lunch:
- A brisk 2-mile walk or bike ride
- 10 mins abdominal exercises
Mid-afternoon:
- Microwave a banana with 1tsp honey topped with 1tbsp plain yogurt
Before evening meal:
- Brisk 1-mile walk
- 5 mins abdominal exercises
Evening meal:
- 250ml glass tomato juice
- Florida salad made with 1 grated carrot, handful grated beetroot (from supermarkets), 6 segments of fresh orange, bunch of watercress, 1tbsp sultanas, 6 chopped walnuts, drizzled with olive oil, lemon juice and honey dressing
Dessert
- Hot pineapple
or
- Hot peaches
Supper
- Bonus milkshake
Sunday
Repeat Saturday
The diet rules:
Yes fresh water (tap is fine)
with lemon or orange
Yes herb, fruit or green teas
No alcohol
No coffee
No tea



This diet has...
No saturated fat
No trans fats
No added sugar
No added salt
Continued below...
If you have any questions about this diet, contact Monica via her website
www.monicagrenfell.co.uk