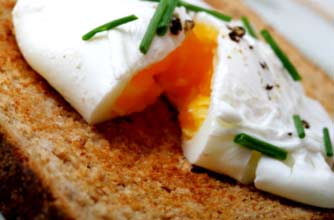 Breakfast
-
Porridge
made with skimmed milk. You can add sweetener or a heaped tsp of honey, or jam.
- A poached egg on two slices of wholemeal or wholegrain bread and low-fat spread, a glass of orange juice
- Low-fat plain or fruit yogurt with a handful of nuts, muesli or dried fruit
- A mashed banana on two slices of wholegrain or wholemeal bread or toast with low-fat spread
- A bowl of wholegrain cereal or muesli
- Baked beans on wholemeal or wholegrain toast and low-fat spread
- Large
fruit smoothie
Lunch
- Grilled sardines or mackerel on 2 slices of wholemeal toast with grilled tomatoes, low-fat spread and wilted spinach
- 2 slices of grilled lean bacon, a grilled tomato, baked beans and grilled mushrooms
- Baked potato with one topping:
A dsp of low-fat grated cheese
150g cottage cheese
Low-fat cream cheese
2 tbsp of baked beans
Low-fat spread
150g
Low-fat chilli con carne
or
veggie chilli
- A tin of soup (choose one that has no more than 400 calories a tin - or
make your own
!) with a small wholemeal roll and low-fat spread
-
Avocado pasta salad
- A salad with low-fat grated cheese or a large boiled egg or a tin of tuna with a dsp of low-fat mayonnaise or salad cream
Continued below...
- Smoked salmon and low-fat cream cheese in a wholemeal bagel and salad