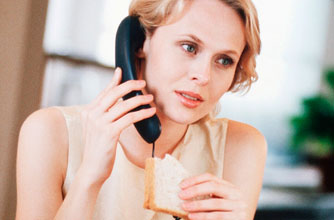 The trick to eating healthily when life's full-on is knowing which foods to eat to lose weight, without leaving you feeling hungry. Food nutritionist Monica Grenfell shows you how...
Want to go on a diet but not sure how you'll stick to it if you're in the car or the office a lot? Our fast food diet makes life easy by giving you a choice. The rule is you can swap between the two - and you'll still lose weight.
The good...
- Leaf, egg or fish salads
- Fruit salads and bananas
- Vegetable sticks
- Filter coffee
- Fat-free yogurt
- Individual 30g cheese portions - only 120 cals
Continued below...
The bad...
- Any bought sandwich
- Dips, cheese, houmous, guacamole etc.
- Creamy salads like prawn mayonnaise, cheese or chicken tikka
- Greek yogurt
- Cappuccinos or lattes
- Any cake, biscuit cereal bar or flapjack