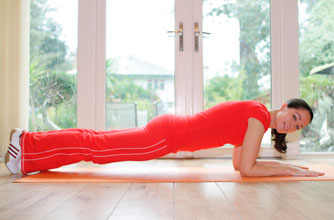 Continued below...
The plank
Lie on your front with your legs straight
Slowly lift yourself up so that you're using your toes and your hands to support yourself
If you don't think your arms are strong enough, rest on your lower arms instead
Pull in your belly and keep your back straight and hold the position for 10 seconds, or as long as you can.
The plank part 2
This is tricky, but if you think you can do it, great. If not, don't worry, just doing some of the exercises is better than none
Follow the plank exercise as above but raise one leg and stretch it out for 5-10 seconds - or as long as you can.
Alternate with each leg five times.