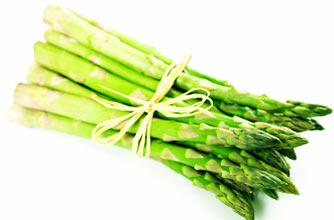 Enjoy a low-fat barbecue with meat and fish that's in season in July, such as lamb, salmon, halibut and tuna.
Breakfasts
One large slice of smoked salmon with low-fat cream cheese on two slices of wholemeal toast.
Wholegrain cereal with a large handful of mixed berries.
Wholegrain cereal with a chopped peach or apricot.
Porridge made with skimmed milk, a handful of fresh chopped cherries and a handful of sliced almonds.
4 grilled fresh apricots with a sprinkling of sweetener and a dollop of low-fat crème fraiche.
Try grilling them: Slice and de-stone the apricots, sprinkle with sweetener and grill until lightly toasted, serve hot with low-fat crème fraiche.
Continued below...
Lunches
2 medium scrambled eggs with a tsp of grated Parmesan cheese, 4 chopped tomatoes and a wholemeal bread roll. 2 large apricots.
Asparagus soup with a poached egg, a slice of brown bread and a handful of fresh cherries and 1 scoop of reduced calorie vanilla ice cream.
Wilted spinach, roasted tomatoes, courgettes and peppers and 3 slices of lean ham, beef, turkey, chicken or vegetarian soya alternative. A pot of sugar-free jelly with fruit.
Beetroot salad with a small rice and lentil salad and a pot of low-fat fruit yogurt.
Pasta salad with 100g of chopped lean chicken, ham, turkey or vegetarian alternative soya protein. A low-fat summer fruit pudding (swap the blackberries for redcurrants).
Dinners