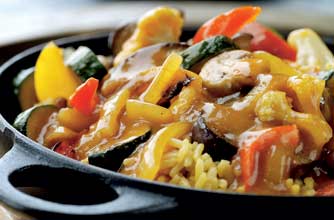 DINNERS: 300-400 caloriesAdd 3tbsp steamed rice or couscous to any of these dishes.
-
Lamb
or
pork
chop, glazed with honey and orange juice, grilled, mashed carrots and swede, steamed broccoli
- 100g poached
salmon
served with spinach and carrots
- 100g
chicken
, stir-fried, with 2tbsp grapefruit segments added. Serve on stir-fried veg
- Mixed vegetable and bean
curry
with 3tbsp steamed rice. Tomato and cucumber salad
- Salmon fillet, pan-fried with 1tbsp almonds. Serve on 3tbsp green lentils. Mixed green salad
- Lemon chicken escalope - shallow-fry a flattened chicken breast, top with lemon juice and zest, and serve with 3 vegetables
Continued below...
Desserts: 100-150 calories
- 3tbsp any stewed fruit (no sugar) with 1tbsp yogurt
- Apple and 4 squares plain
chocolate
- Microwaved banana with 1tbsp yogurt
- Small pot Ambrosia creamed rice