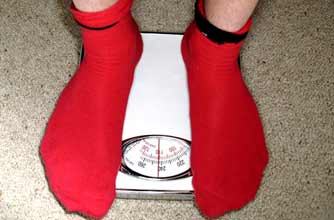 More than half the men in the UK are overweight - and weight problems have been linked to other health problems such as heart disease, high blood pressure and diabetes.

One scientist recently claimed that 19,000 cases of cancer could be prevented each year if people had a healthy BMI.
The easiest way to find out if your man is overweight is to work out his
BMI
. If it's between 25 and 29.9 then he's overweight - which has moderate risks on his health.
If his BMI is over 30 then he's obese and at high risk of having health problems.
If you are worried about your man's weight, get him to consider this
men-only diet
and try these
sneaky ways to make your man lose weight
.
Back to the start
Continued below...
More help
-
Have you got the fat gene?
-
Exercise ideas