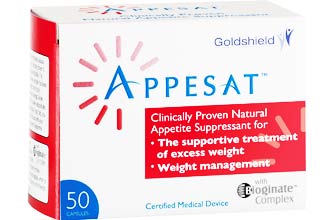 Appesat states that it's an all natural product that works by suppressing the user's appetite.
Appesat is around £30 for 50 capsules. Take nine a day, three with each meal.
Type:
Appetite suppressant
How does it work?
The makers claim that the seaweed-based ingredient sends a message from your stomach to your brain to tell you that you're full. Plus the pills contain fibre that will actually fill you up too, so you eat less food.
Where can I buy them?
Appesat is available through chemists and online.
What are the pros?
If the maker's claims are correct then this could be very helpful for dieters who never feel satisfied after a meal.


Larger portions are partly to blame for the fact that more of us are overweight than ever before. Appesat could help you reduce your portions and still feel full.


Appesat has had a lot of clinical tests and so there's good evidence to back up the maker's claims.
What are the cons?
Some people could be allergic to the seaweed-based ingredients, although this is rare.


If you are an emotional eater then this pill is unlikely to help you.


It can be quite expensive if you take the maximum dose of nine pills a day.
Expert verdict
Nutritionist, Carina Norris says: 'It might help some people with food cravings, but there are plenty of cheaper, simpler ways of doing this, like basing your diet around
low glycaemic index
foods such as
wholegrains
,
fruit and vegetables
.'
Continued below...
For more information on other diet pills, follow the links below...
Alli
Raspberry Ketones
Metasys®
Formoline L112
Adios Max
Slim Nite