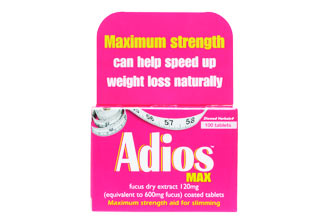 Adios Max claims to keep unwanted weight off by working with an important thyroid to support a healthy metabolism.
Adios Max is around £12 for 100 tablets. Take 3 times a day.
Type: Metabolism booster


How does it work?
The pills contain herbal ingredients to help speed up metabolism and
detox
your body. The main herbal ingredient is kelp (seaweed), which does have some scientific evidence to back up the theory that kelp can speed up the metabolism.
Continued below...
Where can I buy them?
Chemists and health food stores.
What are the pros?
Contains kelp which can help speed up a slow metabolism in some people.
Compared with other diet pills it's good value.
This is a stronger version of the original Adios.
What are the cons?
Not suitable for people with heart problems.
If your metabolism is normal, taking kelp won't help and it may even cause health complications for some people.
Not suitable if you have an intolerance or allergy to lactose.
Expert verdict
Nutritionist, Carina Norris says: 'This relies on herbs and seaweed. I wouldn't want to dismiss the potential beneficial effects of plants, but I'd think a product like this would only produce a very small effect, and the main benefit would be from the calorie-controlled diet the manufacturers recommend.'
For more information on other diet pills, follow the links below...

Appestat
Raspberry Ketones
Metasys®
Formoline L112
Green tea extract
Slim Nite