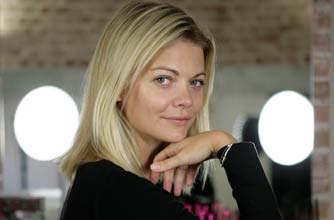 5. Recreate the English Rose look
I think pale skin is beautiful and I even designed a whole collection around it called English Rose. To create the look yourself use a concealer or foundation which matches your skin tone to cover any under eye circles or blemishes you may have. Use a touch of soft pink or rose blush on the cheeks and a similar colour on the lips. Eyes are defined with a touch of defining mascara.
6. Fake the sunkissed look
Some people feel more attractive with a slight tan, particularly in the summer months. There are so many ways to achieve the sunkissed look without damaging your skin.
Go for moisturisers with gradual tanning agents built in which give a subtle colour or for a quick fix, opt for a tinted body moisturiser. I like ones with a subtle shimmer.
Bronzers are another way to fake the sunkissed look. Just a small amount applied to the face and décolletage can give you that just-been-on-holiday look in seconds. Use a powder bronzer on the areas which would naturally be caught by the sun; forehead, bridge of the nose, and a touch on the cheekbones. Brush over your collar bones and lightly dust your décolletage and the sides of your neck. Match your colour carefully and opt about two shades darker than your natural skin tone.
Fake tans and bronzers do not always contain SPF so make sure you check this, use sunscreen and put on a hat before you go out and about on a sunny day.
7. Keep hydrated
As we age our skin does not produce the same amounts of water and oil as it used to, therefore skin gets dry and dehydrated easily, making fine lines and wrinkles more prominent. To help combat this, drink lots of water, moisturise regularly and opt for moisturising formulations in your make-up.
Why drinking water is so good for you
8. Get plenty of sleep
It is important to
have enough sleep
each night, as lack of sleep will make your skin look dull and uneven. Remember - a suntan fades but skin damage stays with you for life.
How lack of sleep affects your body
Where to next?
More on skin cancer
-
Skin cancer: keep your moles safe
-
Skin cancer is still on the rise
-
Why we're still in the dark about sun damage
-
The truth about sun beds
-
A medical explanation on melanoma skin cancer
More summer health advice
-
Sun care tips for protecting kids
-
Can you trust your sun cream?
-
Your tips for treating heat rash and sunburn
-
Prickly heat
-
Sun spots
More summer beauty help
-
Celebrity fake tan disasters
-
Which is the best fake tan? See for yourself in our gallery
Visit www.sunsmart.org for more info on Cancer Research UK's campaign