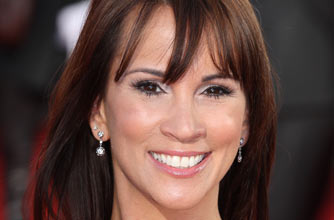 You probably have a curvy lower lip, with habits like licking your lips and nail-biting. Your stomach has lots of stress and anxiety.
Andrea McLean
This girl has ambition - Andrea knows what she wants but experiences highs and lows and is quite concerned about losing self control.
There are traces of emotional hurt on her face. She's a bit like a swan swimming on a lake - she looks outwardly calm and serene, but is actually paddling like hell underneath! While she may have yet to fulfil her ambitions, she definitely knows what she wants.
Stomach types need to keep gut anxiety under control, and peppermint tea is ideal for easing stomach stress.
Good to try:
Pukka Three Mint tea
, with three types of mint - peppermint, spearmint and field mint - it's so soothing.
Woman's Own is on sale every Tuesday, just 90p
- Subscribe to Woman's Own - it's an all year round treat at just £9 a quarter!
Continued below...
More help and advice
-
Loose Women laid bare: Denise, Coleen and Andrea put on their swimsuits
-
Read our alternative and natural health diet
-
All the facts about stress
-
Try our Woman's Own diets
-
All our Loose Women stories
-
Find out more about Woman's Own