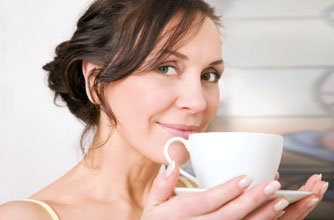 The secret behind this new diet from food nutritionist Monica Grenfell is the simple cuppa - and it works!

How it works
It's so simple. Tea has just one calorie a cup while a dash of milk makes it only 10, so by drinking tea instead of your usual latte or cappuccino, you will save thousands of calories - and you even get biscuits! You will eat fresh meals that can be grilled or barbecued in minutes, leaving you just to toss a salad or steam some veg. Throw in some healthy snacks and you're done. So get that kettle on!


Save up to 1,540 calories a week!
Swap your latte for a cuppa to ditch those excess cals - just use our handy calorie comparison table below
The amount of calories in:
- Black tea: 1
- Tea with skimmed milk: 10
- Skinny cappuccino (skimmed): 35
- Cappuccino (semi-skimmed): 110
- Skinny latte: 70
- Latte (full-fat): 220
Continued below...
The miracle brew
- Tea contains antioxidants called flavanoids, which are powerful anti-cancer compounds