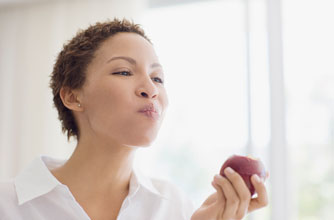 Diet guru
Monica Grenfell
shows you the perfect diet to help ditch those sweet cravings for food
How it works
When it comes to controlling your appetite, nothing works better than eating plenty of protein. That's because it can take three to eight hours to digest. The diet bonus? Max out on low-fat protein foods and it'll stop you reaching for the crisps and biscuits...
Low-fat protein facts
- Skinless
chicken
= low fat
- Skin on chicken = high fat
- Grilled, 100 per cent
beef burger
= low fat
- Fried beef or
cheeseburger
= high fat
- Turkey escalope, grilled = low fat
- Turkey escalope breaded = it becomes high carb and high fat
Continued below...
When you have to have a snack...
Snacks must be protein, nothing with sugar, flour etc. These will make you feel full:
1. Palmful of cashew nuts
2. One hard-boiled egg
3. Individual portion of cheese
4. Very small carton of cottage cheese
5. Small pack of cold chicken (e.g., tikka) pieces
6. 1 or 2 slices of ham wrapped around a celery stick