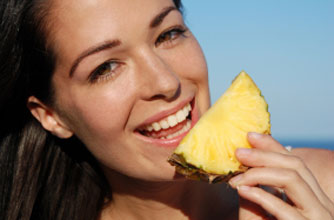 Think you've left it too late to lose weight for your holiday? Consider it sorted with diet guru Monica Grenfell's holiday panic diet.

How it works
Pineapple is a miracle fruit that is sweet to help beat cravings, high in fluids to keep you feeling energetic and a great diuretic to combat water retention and headaches. You must eat pineapple at every meal for this diet to work best.


Top tip
Always choose a fresh pineapple - it should smell sweet and look golden yellow and will last two days.
Continued below...
Your refresher shake recipe
Pop 100g fresh, ripe pineapple in a blender with 250ml semi-skimmed milk. This frothy, sweet white shake contains just 105 calories. Drink straight away, but if you have left it, simply stir well before drinking.