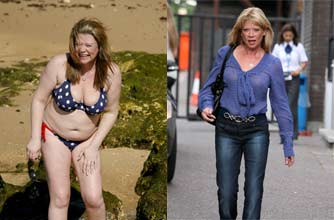 New Tricks actress Hannah Waterman, 34, was determined to lose weight after holiday snaps sparked pregnancy rumours...
Eating low-GI foods means blood sugars are more stable, so you feel fuller for longer. Hannah shed her extra weight in just six weeks - you could the same.
Low GI foods
Cherries
Apples
Grapefruit
Porridge
Nuts
Wholewheat spaghetti
Green beans
Milk
Yogurt
Pumpernickel/rye bread
High GI foods - try to avoid these
Mangoes
Pineapples
Rice
Crispies
Shredded Wheat
White/wholemeal bread
Cornflakes
Mashed or baked
potatoes
Bananas
Beetroot
Croissants
Continued below...
Hannah Waterman's weight gain and loss in pictures