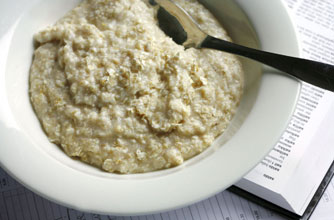 Any combination of these meals in a day will constitute a low GI diet.
You'll be consuming between 1,200 and 1,400 a day. Make sure you drink plenty of water - you can also drink tea, coffee, low-sugar fruit juices including tomato juice.
Breakfasts1.
50g slice of toasted rye bread with 1tsp peanut butter. Plus medium apple, sliced, and 200ml unsweetened orange juice.
2.
30g Special K with skimmed milk. Plain low-fat yogurt with sliced peach.
3.
30g porridge oats, cooked, swirl of runny honey and 1tsp toasted hazelnuts.
4.
Breakfast bruschetta - brush a slice of granary bread with olive oil and top with a sliced tomato and 3 mushrooms, sliced. Add a slice of low-fat bacon
if you like. Drizzle with 1tsp more olive oil and grill. Top bruschetta with a poached
egg. Serve with a 200ml glass of unsweetened grapefruit juice.
Lunches1.
Open sandwich, with prawns, mayo and squeeze of a lemon on 1 slice rye or pumpernickel bread.
2.
Raw vegetable sticks with small pot low-fat cream cheese or cottage cheese.
3.
Cold chicken breast, diced, served with mayonnaise and squeeze of lemon and 2tbsp couscous. Salad.
4.
2tbsp baked beans on 1 slice rye bread, toasted.
5.
Minestrone or spinach soup served with 3 rye crackers.
6.
2 oatcakes spread with 3tsp peanut butter. Fruit.
7.
2 multi-grain Ryvitas with 2tbsp low-fat cottage cheese and a few
grapes.
Dinners1.
Steamed salmon with ribbons of courgette and carrot. Small baked sweet potato.
2.
Small baked sweet potato filled with low-fat cottage cheese and chives.
3.
Grilled plain fillet steak with corn-on-the-cob, mushrooms and green salad.
4.
Small portion wholewheat spaghetti with 4tbsp tomato and veg sauce.
5.
Grilled tuna steak with low-sugar apricot compote (e.g., St Dalfour fruit spread), steamed veg.
6.
Lentil chicken curry - casserole diced chicken breast with green lentils, onions and stock, then add curry seasoning. Serve on plain boiled basmati rice.
Continued below...
Hannah Waterman's weight gain and loss in pictures