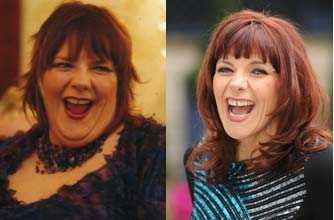 Actress Rebecca Wheatley, 44, best known for playing receptionist Amy
Howard in Casualty, lost an amazing 12 stone and has been crowned
Slimming World's Woman of the Year.

When Rebecca got married she weighed 24½ stone and was a size 32. She had always been an unapologetic 'big girl', but it was seeing the photos of her wedding day (see before and after pictures below) that made her realise she wanted to do something about her weight.


'I should have been happy,' she says, 'but seeing my wedding pictures was devastating. It took me two weeks to find the courage to open the beautiful wooden box containing the photographs, and when I did there wasn't a single one I wanted to show people.'

Rebecca joined Slimming World in 2005 and with the support and guidance of Lisa, her consultant, and the rest of her group, she managed to shed half her body weight. What's more, two years on, she's still a size 12 and very happy with her figure.

'Eating and drinking are sensual parts of enjoying life and Slimming World allows me to feel that I can still enjoy my food and never have to feel guilty. I've discovered that with my new-found knowledge and the support of the group I can keep the weight off for life.'

Visit Slimming World for more information.


Continued below...
Where to next?
See all of our Slimming World recipes
Slimming World classic tomato soup
Find the perfect diet quiz
Expert help on dieting
Not for you? See our other diets - we've got over 60!