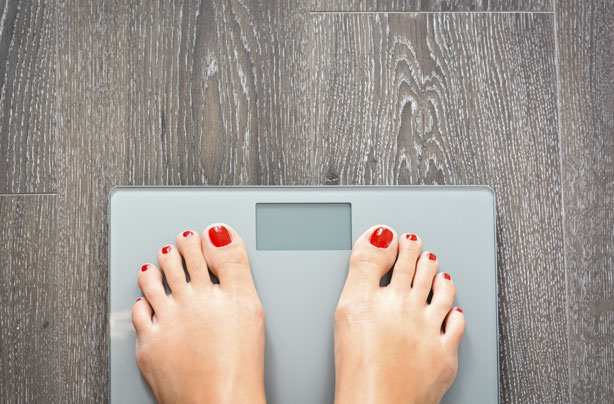 If you're about to embark on a diet, one thing you'll need to do way before you hit the supermarket for healthy fruit and veg, and fork out for that gym membership, is to work out how much weight you actually want to lose. With different measurements it can be hard to know what you actually weigh - that's where a
weight convertor
comes in handy.
Whether you want to convert kilos to stones to find out how much you weigh, or for an entirely different reason (anyone else find they have to weigh their luggage before their holiday?) then our handy kilos to stones weight converter chart will help!
If you need a quick way to find out what something weighs in stones and pounds instead of kilograms, all you need to do is keep our easy-to-use guide handy and you'll never need to start working out tricky conversions again!
It couldn't be easier to use. All you have to do is find the weight on the chart and it'll tell you how much the weight is in the other metric. This is particularly useful for when you want to work out your BMI, which you can do using our BMI tool.
Our simple
kilos to stones table
is the ultimate aid when it comes to converting metric measurements into imperial and vice versa.
So what are you waiting for? Start using our handy kilos to stones table now!
Continued below...
Kilos to stones
| | | | | | |
| --- | --- | --- | --- | --- | --- |
| kg | stones/lbs | kg | stones/lbs | kg | stones/lbs |
| 38.1 | 6.0 | 68.0 | 10.10 | 98.0 | 15.6 |
| 38.6 | 6.1 | 68.5 | 10.11 | 98.4 | 15.7 |
| 39.0 | 6.2 | 68.9 | 10.12 | 98.9 | 15.8 |
| 39.5 | 6.3 | 69.4 | 10.13 | 99.3 | 15.9 |
| 39.9 | 6.4 | 69.9 | 11.0 | 99.8 | 15.10 |
| 40.4 | 6.5 | 70.3 | 11.1 | 100.2 | 15.11 |
| 40.8 | 6.6 | 70.8 | 11.2 | 100.7 | 15.12 |
| 41.3 | 6.7 | 71.2 | 11.3 | 101.2 | 15.13 |
| 41.7 | 6.8 | 71.7 | 11.4 | 101.6 | 16.0 |
| 42.2 | 6.9 | 72.1 | 11.5 | 102.1 | 16.1 |
| 42.6 | 6.10 | 72.6 | 11.6 | 102.5 | 16.2 |
| 43.1 | 6.11 | 73.0 | 11.7 | 103.0 | 16.3 |
| 43.5 | 6.12 | 73.5 | 11.8 | 103.4 | 16.4 |
| 44.0 | 6.13 | 73.9 | 11.9 | 103.9 | 16.5 |
| 44.5 | 7.0 | 74.4 | 11.10 | 104.3 | 16.6 |
| 44.9 | 7.1 | 74.8 | 11.11 | 104.8 | 16.7 |
| 45.4 | 7.2 | 75.3 | 11.12 | 105.2 | 16.8 |
| 45.8 | 7.3 | 75.7 | 11.13 | 105.7 | 16.9 |
| 46.3 | 7.4 | 76.2 | 12.0 | 106.1 | 16.10 |
| 46.7 | 7.5 | 76.7 | 12.1 | 106.6 | 16.11 |
| 47.2 | 7.6 | 77.1 | 12.2 | 107.0 | 16.12 |
| 47.6 | 7.7 | 77.6 | 12.3 | 107.5 | 16.13 |
| 48.1 | 7.8 | 78.0 | 12.4 | 108.0 | 17.0 |
| 48.5 | 7.9 | 78.5 | 12.5 | 108.4 | 17.1 |
| 49.0 | 7.10 | 78.9 | 12.6 | 108.9 | 17.2 |
| 49.4 | 7.11 | 79.4 | 12.7 | 109.3 | 17.3 |
| 49.9 | 7.12 | 79.8 | 12.8 | 109.8 | 17.4 |
| 50.3 | 7.13 | 80.3 | 12.9 | 110.2 | 17.5 |
| 50.8 | 8.0 | 80.7 | 12.10 | 110.7 | 17.6 |
| 51.3 | 8.1 | 81.2 | 12.11 | 111.1 | 17.7 |
| 51.7 | 8.2 | 81.6 | 12.12 | 111.6 | 17.8 |
| 52.2 | 8.3 | 82.1 | 12.13 | 112.0 | 17.9 |
| 52.6 | 8.4 | 82.6 | 13.0 | 112.5 | 17.10 |
| 53.1 | 8.5 | 83.0 | 13.1 | 112.9 | 17.11 |
| 53.5 | 8.6 | 83.5 | 13.2 | 113.4 | 17.12 |
| 54.0 | 8.7 | 83.9 | 13.3 | 113.9 | 17.13 |
| 54.4 | 8.8 | 84.4 | 13.4 | 114.3 | 18.0 |
| 54.9 | 8.9 | 84.8 | 13.5 | 114.8 | 18.1 |
| 55.3 | 8.10 | 85.3 | 13.6 | 115.2 | 18.2 |
| 55.8 | 8.11 | 85.7 | 13.7 | 115.7 | 18.3 |
| 56.2 | 8.12 | 86.2 | 13.8 | 116.1 | 18.4 |
| 56.7 | 8.13 | 86.6 | 13.9 | 116.6 | 18.5 |
| 57.2 | 9.0 | 87.1 | 13.10 | 117.0 | 18.6 |
| 57.6 | 9.1 | 87.5 | 13.11 | 117.5 | 18.7 |
| 58.1 | 9.2 | 88.0 | 13.12 | 117.9 | 18.8 |
| 58.5 | 9.3 | 88.4 | 13.13 | 118.4 | 18.9 |
| 59.0 | 9.4 | 88.9 | 14.0 | 118.8 | 18.10 |
| 59.4 | 9.5 | 89.4 | 14.1 | 119.3 | 18.11 |
| 59.9 | 9.6 | 89.8 | 14.2 | 119.7 | 18.12 |
| 60.3 | 9.7 | 90.3 | 14.3 | 120.2 | 18.13 |
| 60.8 | 9.8 | 90.7 | 14.4 | 120.7 | 19.0 |
| 61.2 | 9.9 | 91.2 | 14.5 | 121.1 | 19.1 |
| 61.7 | 9.10 | 91.6 | 14.6 | 121.6 | 19.2 |
| 62.1 | 9.11 | 92.1 | 14.7 | 122.0 | 19.3 |
| 62.6 | 9.12 | 92.5 | 14.8 | 122.5 | 19.4 |
| 63.0 | 9.13 | 93.0 | 14.9 | 122.9 | 19.5 |
| 63.5 | 10.0 | 93.4 | 14.10 | 123.4 | 19.6 |
| 64.0 | 10.1 | 93.9 | 14.11 | 123.8 | 19.7 |
| 64.4 | 10.2 | 94.3 | 14.12 | 124.3 | 19.8 |
| 64.9 | 10.3 | 94.8 | 14.13 | 124.7 | 19.9 |
| 65.3 | 10.4 | 95.3 | 15.0 | 125.2 | 19.10 |
| 65.8 | 10.5 | 95.7 | 15.1 | 125.6 | 19.11 |
| 66.2 | 10.6 | 96.2 | 15.2 | 126.1 | 19.12 |
| 66.7 | 10.7 | 96.6 | 15.3 | 126.6 | 19.13 |
| 67.1 | 10.8 | 97.1 | 15.4 | 127.0 | 20.0 |
| 67.6 | 10.9 | 97.5 | 15.5 | 127.5 | 20.1 |