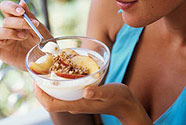 Continued below...
Breakfasts
Choose one each day
30g Special K cereal with a cup of skimmed milk.
1 bowl of mixed grapefruit and orange segments.
1 pot fat-free yoghurt with 1dsp of sultanas, a sprinkling of wheatgerm and half a banana, sliced.
Day 1
Lunch
1 banana, low-fat cottage cheese and grapes.
Grated cheese salad (60g) and 1 hard-boiled egg.
2 scrambled eggs on 1 slice of unbuttered granary bread.
Dinner
Moroccan chicken salad with 2tbs of couscous.
Grilled fillet steak with salad, tomatoes and mushrooms.
Quorn in black pepper and lemon, 2 boiled potatoes, spinach and carrots.
Dessert
Fruit jelly with raspberries and 1dsp low-fat plain yoghurt.
Day 2
Lunch
Tuna salad with peas and sweetcorn.
Yoghurt smoothie with low-fat plain yoghurt, 1tsp honey
Pine nut and avocado salad.
Dinner
Pork medallions with apple rings and fresh green vegetables.
Pan-fried chicken escalope with added chilli oil, stir-fried vegetables
and a dash of chilli sauce.
Vegetarian chilli with kidney beans, served with rice.
Dessert
1 small pot of low-fat rice pudding with stewed apple.
Day 3
Lunch
High-fibre fruit salad: 6 prunes, 6 dried apricots and 1 banana topped off with a pot of low-fat plain yoghurt.
1 pot of low-fat cottage cheese with 1 banana
1 pot of low-fat cottage cheese with Parsnip or vegetable crisps, 1 apple.
Dinner
Yoghurt-baked chicken, served on Lemon-flavoured rice with salad.
Fried tofu, with vegetables stir-fried in a pan with1dsp low-fat crème fraiche,
served with rice.
Mixed vegetable chilli with grated cheese
Dessert
2 poached or tinned pears, 2 tbs low-fat yoghurt
Day 4
Lunch
Bacon and walnut salad, 1 slice of granary bread and either 1 apple, 1 stick of cheddar or some grapes.
300ml asparagus, leek and potato or carrot and coriander soup. Handful of croutons
Dinner
Lemon paprika chicken with Salad or stir-fried vegetables.
Yoghurt-baked chicken with 1 mashed parsnip and peas.
Stir-fried vegetables with toasted Pine nuts and 100g penne pasta
Dessert
Stewed fruit with yoghurt.