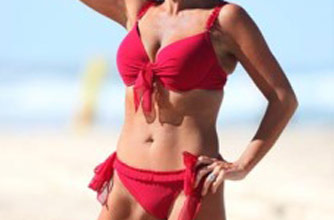 Continued below...
Day 5
Lunch
Tomato soup with low-fat crème fraiche and a small roll.
Cheese salad
Small pot of cottage cheese with mixed vegetable sticks - celery, pepper and carrot
Dinner
Grilled salmon with spinach, broccoli and herbs.
Cod poached in milk. Sprinkle cheese on top and grill until golden. Serve with 2 potatoes and carrots.
Baked Quorn fillet with black pepper, lemon and a drizzle of lemon-yoghurt dressing. Serve with mixed salad.
Dessert
Day 6
Lunch
Spinach or watercress soup with 1 small granary roll and butter.
Large mixed salad with grilled salmon fillet, 2tsp french dressing.
Grilled mushrooms on toast, with a dollop of crème fraiche on top.
Dinner
Prawn stir-fry with vegetables.
1 portion of lamb Moussaka with yoghurt topping, grilled.
1 Jacket potato with ratatouille and grilled cheese.
Dessert
Mango and pineapple fruit salad with yoghurt.
Day 7
Lunch
1 glass of low-fat yoghurt smoothie.
Grilled salmon spinach, broccoli and herbs.
1 stick of cheese, 1 pear and a handful of grapes.
Dinner
Dessert
Don't forget to drink-
Two pints of plain water a day
Unlimited tea
Three coffees or unlimited decaf
Only on DAY 7 - three units of alcohol!
Get Sculpting
These slow, stretching moves really challenge waist and tummy muscles to stay firm and flat. Do these exercises on alternate days.
Side strech
1. Hold a light weight in one hand, other hand on your hip.
2. Nudge out with one hip, as if you were gently bumping someone. Raise the weight over your head then return to the start position. Repeat 8 times, and change sides.
Ab Cruncher
You can do this exercise with or without an exercise band - the band helps supports your back
1. If you're using the band, prepare by holding the band firmly, wrapped around your hands, knees bent.
2. Lie flat on your back with your legs at 90 degrees to the floor. Clench your stomach muscles, pulling your tummy button towards your spine. Push your legs straight out in front of you, keeping them as low as possible but if you feel it in your back, lift your legs higher. Hold for 10 seconds.
3. Now lift your arms above your head. Keep your stomach muscles clenched and push your back into the floor.
4. Finally raise your shoulder blades off the floor and hold for 10 seconds. Return to start position and rest 10 seconds. Repeat the sequence 7 more times.