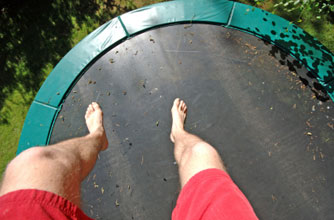 Trampolining has loads of health benefits. It's great for your circulation, burning fat, speeding up your metabolism, cellulite and toning your legs. Just half an hour can burn around 200 calories. Plus it's fun and you can do it with the kids.


Continued below...
If your kids don't have a trampoline you can use a rebounder or trampette, which is a mini trampoline that you use indoors. You can get them for around
£40 from Argos
.
Where to next?
Beat cellulite with
easy exercise
Keep fit at work
10 ways to firm your
bum
10 Ways to a flat belly
10 ways to beat
bingo wings
Take our quiz
and find your perfect diet
What's your BMI?
See
our fitness bargains in the goodtobuy shop
Get
a pedometer and see your progress
Choose a diet - we've got over 75!