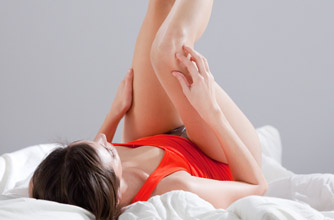 This exercise targets the inner thigh and it's easy peasy. Lie face up on floor with arms at sides, palms down and legs extended. Lift legs about 45 degrees, pointing toes. Quickly open and close your legs, crossing the right thigh over the left and then reversing the movement. Continue scissoring legs; try to do 12 to 15 repetitions per leg.


Continued below...
Where to next?
Get your dream body: thighs
Beat cellulite with easy exercise
Keep fit at work
10 ways to firm your bum
10 Ways to a flat belly
10 ways to beat bingo wings
Take our quiz and find your perfect diet
What's your BMI?
See our fitness bargains in the goodtobuy shop
Get a pedometer and see your progress
Choose a diet - we've got over 75!