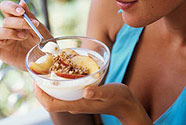 Continued below...
The Diet
Aim for 1,200-1,400 calories a day for healthy, steady weight loss.
Breakfast - all 250 cals. Choose one
Cottage cheese omelette using 1 whole egg and 3 whites and 1tbs cottage cheese. 300ml fresh apple or ruby grapefruit juice.
Large skimmed milk latte. 1 boiled egg. Fresh fruit salad with low-fat yoghurt.
Bircher Muesli - soak 30g porridge oats in skimmed milk for 10 minutes, add ½ grated apple, ½ banana, a few hazelnuts, sunflower seeds and 1tbsp low-fat natural yoghurt and a few raspberries and fold together.
2 eggs, scrambled, with one slice wholemeal toast and a scraping of butter.
40g Bran flakes with skimmed milk, topped 1 sliced peach and 3 flaked Brazil nuts.
Honey-yoghurt whip. Add 100g berries to 1 pot low-fat plain yoghurt and top with 1tsp runny honey and 1tbsp toasted flaked almonds
Lunch
All 300 cals. Choose one
Small tin tuna in spring water with a green salad. A Banana and low fat yoghurt.
100g low-fat cottage cheese and large fruit platter. Have a mix of berries, banana, peach and mango.
Cold roast skinless chicken breast, sliced, with mixed colourful salad. Drizzle of Vinaigrette dressing. Apple.
Carrot and celery sticks with 100g low-fat houmous. Small pot low-fat rice pudding.
40g cheese and 2 sliced tomatoes on 2 multigrain Ryvitas. Pot plain low-fat yoghurt with 1tbsp mango puree (tinned)
300ml Broccoli, asparagus or spinach soup. Small bread roll with a scraping of butter (eat afterwards). 1 apple.
Light Caesar salad- 70g cooked, skinless chicken, 1 head Cos lettuce, 1 hard-boiled egg, chopped, 1tbsp croutons and 1tbsp light Caesar dressing. 1tbsp fresh Parmesan.