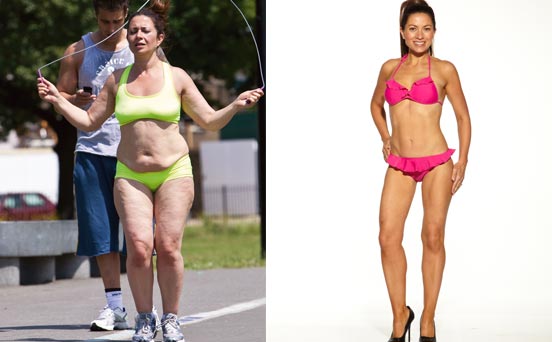 Continued below...
Breakfast
Before
Bacon sandwich with tomato and brown sauce
After
Porridge and blueberries
Mid-morning
Before
Cheese and pickle sandwich. Cup of tea
Lunch
Before
Bread and olive oil. Pasta in a creamy sauce, mixed salad with dressing. Glass of wine.
After
Salmon steak, green salad and sweet potato.
Mid-afternoon
Before
Slice of victoria sponge cake and a latte.
After
Handful of nuts and a yogurt
Dinner
Before
Chicken Korma with rice and naan bread. Two glasses of wine. Cheese and biscuits.
After
Lean steak and mixed vegetables. Piece of fruit.
Clare Nasir's Boot Camp DVD, £19.99 is out now.
Where to next?
Top 10 fitness DVDs of 2010-2011