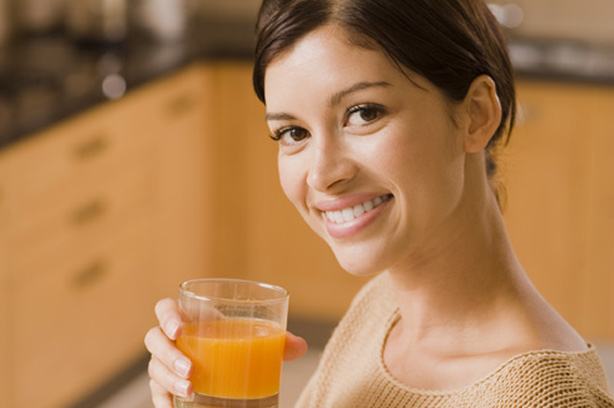 Continued below...
The Diet
On this diet you'll eat 1,000 calories on weekdays and 2,750 calories a day at the weekend. Expect to loose around 5-8LBs in 2 weeks.
Monday - Friday
Choose one breakfast, lunch and dinner from the list below

Breakfast- 250 calories each
• 2tbs grapefruit segments. Sachet of ready-to-make porridge with added soya milk and half a banana, chopped.
• 2 slices granary toast with a light spread of crunchy peanut butter. Fresh orange juice.
• 2 eggs, scrambled with a slice of wholegrain toast. Glass of pure orange or grapefruit juice.
• 40g Fruit 'n Fibre, sliced apple, 1tbsp yogurt, a few prunes, skimmed milk
• 1 Shredded Wheat, sliced apple, 10 grapes, sprinkling of almonds, skimmed milk
Lunch- 200 calories each
• 2 Ryvitas spread with marmite and lettuce leaf and a slice of cheese. Apple and grapes
• 2 Ryvitas with cottage cheese and with a few peppers, prawns or nothing. Banana.
• 2 slices of cold chicken in 2 slices Nimble bread. A little mayonnaise, sliced tomato
• Low-cal BLT: 2 slices Nimble, 1 well-grilled rasher lean bacon, lettuce, sliced tomato and 1tsp mayo.
• Florida Salad: salad leaves, a few segments of orange or mango, a few toasted walnuts or hazelnuts, half an avocado, sliced, all tossed in a fresh orange vinaigrette.
• A small handful of prawns or smoked salmon with fresh lemon juice, a dollop of crème fraiche and black pepper
• Thai chicken salad: stir-fry 150g chicken strips and add a Thai sauce to coat, bamboo shoots and usual veggies, then leave cold and serve with cool plain steamed rice and a green salad
Dinner - 400 cals each
• 4tbsp chilli con carne, 2tbsp rice and green salad
• Baked salmon fillet and green salad with dressing
• Edam omelette with small jacket potato and salad
• 180g pasta shapes with a fresh vegetable sauce and 30g Parmesan shavings add a green salad
• Cod fillet baked with a herby, breadcrumbed topping (make this yourself with crumbs, grated lemon zest and juice, dried parsley and thyme) baked with a little butter, pureed carrots and steamed spinach.
• Roasted chicken or breaded Quorn fillet, served with 3 vegetables, no potatoes.
• Baked jacket potato filled with 2tbs baked beans and a side salad of sliced baby gem lettuce with a mustard dressing.
Dessert - 150 cals each
• Raspberries and blueberries
• 1 orange sliced
• Stewed blackberry and apple
• Stewed plums
• 6 fresh apricots, halved, baked in sherry
• Baked fresh peach
Serve with either 2tbs low-fat yoghurt or 2tbs low-fat fromage frais or 1tbs single cream