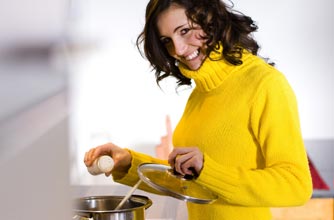 Using the following recipes, you can create a menu based on a daily ProPoints allowance of 29. The meals have the following ProPoints values - 5 for breakfast, 8 for lunch, 11 for dinner and 5 for calcium-rich foods - plus you can dip into your weekly allowance when you need to. Simply choose any combination of breakfast, lunch and dinner from the plan.
Nutrients that you get from milk and dairy, like calcium, are essential for good health. Therefore you'll need to add a pint of skimmed milk or 1/2 pint and a small (125g) pot of low-fat yoghurt into each day (these account for 5 ProPoints values).
Make sure that you drink plenty of fluids throughout the day, aim for at least 6 8oz glasses or 1.2 litres a day.
Breakfast - 5 ProPoints
Hot Fruit with Muesli:
Heat a few plums (or any other seasonal fruit of your choice) in a pan with a splash of water until softened and then serve topped with 30g muesli, 1 tbsp (45g) of virtually fat-free fromage frais and 1 heaped tsp (15g) of honey.
OREnglish Breakfast Muffin:
Toast 1/2 70g English wholemeal muffin. Spread this with 1 tsp low-fat spread, topped with spinach (warmed and wilted through in a small saucepan with 2 tsp of water) and further top with a poached medium-sized egg and ground black pepper.
ORPoached Egg with Beans on Toast:
Spread a medium slice (35g) of brown toast with 1 tsp low-fat spread and top with 1 tbsp (35g) of baked beans and a medium poached egg.
Lunch - 8 ProPoints values
Roasted Vegetable Ciabatta:
Slice 40g ciabatta in half and top each side with a mixture of canned tomatoes, 1 tbsp tomato puree and vegetables roasted in calorie controlled cooking spray (1/4 aubergine, 1/4 courgette and 1/4 red pepper). Top with 40g feta and bake for 10-15 minutes. Serve with 15g tortilla chips.
ORHam & Cheese Tortilla:
Fill a tortilla wrap with 40g wafer thin ham, 30g reduced-fat grated cheese, lettuce, sliced tomato, 1 tbsp low-fat mayonnaise and 1 tsp mustard.
ORTuna Rice Salad:
Mix 75g cooked brown rice with 70g canned tuna (in spring water), finely chopped red onion, chopped pepper, cherry tomatoes, 2 tbsp (60g) sweetcorn and 10 olives in brine (halved). Drizzle with fat-free dressing of your choice.
Dinner - 11 ProPoints values
Spaghetti Bolognese:
Spray a frying pan with calorie controlled cooking spray and place on a medium heat. Fry 1 chopped small onion with 1 crushed garlic clove until softened, add 100g extra lean minced beef and cook until browned all over. Add 1 small can chopped tomatoes, 1 tbsp tomato puree, 1 tbsp Worcestershire sauce, 1 bay leaf and some sliced mushrooms. Stir together and simmer for 20 minutes. Cook 40g wholemeal spaghetti in boiling water, drain and serve with the Bolognese sauce, topped with 1 tbsp grated parmesan.
ORChicken Stir Fry
Cube 120g skinless chicken breast and mix with a little Chinese 5 spice. Fry in 1 tsp vegetable oil until cooked. Add in a selection of stir-fried vegetables with a
ProPoints
value of zero, 40g peas, 40g sweetcorn and 2 tbsp soy sauce. Stir fry until hot and serve with 40g (dried weight) egg noodles.
OR
Sweet Potato Shepherds Pie (serves 4):
Cut 450g sweet potato into cubes and boil. Meanwhile heat a large saucepan coated with calorie controlled cooking spray and add 2 chopped onions and 2 crushed garlic cloves. Once softened add 500g lean lamb mince and cook till browned. Add 400g chopped tomatoes, 30ml red wine, 2 tbsp tomato puree and 2 tbsp Worcestershire sauce and simmer. Add 100g button mushrooms and 80g cooked cubed carrots. Make the sweet potato mash by mashing the sweet potato with 60ml skimmed milk and 2 tsp low fat spread. Pour the mince mixture into an ovenproof dish and spoon the mash over the top. Sprinkle 40g half fat cheddar cheese on top and bake for 25 minutes. Serve with a salad with a
ProPoints
value of zero.
For alternative meal ideas within your daily ProPoints budget visit
www.weightwatchers.co.uk
.
Continued below...
Where to next?
-
More on Weight Watchers
-
10 of the best long term diet plans
-
Choose from over 100 diets