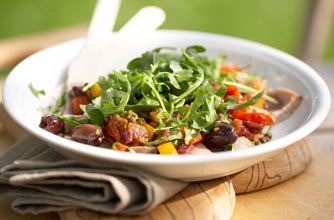 Continued below...
The Diet
Breakfast
40g bowl of high-bran cereal with skimmed milk and extra tbsp wheatgerm
2 eggs, 2 rashers bacon, grilled, tomatoes.
3tbsp Wholegrain muesli with nuts and seeds
Lunch
Cold chicken breast, sliced, with crunchy winter vegetable side salad.
3 thin slices cold roast beef or lamb, in a wholemeal sandwich with horseradish. Add some salad.
1 large box of raw vegetable batons (cauliflower, carrots, peppers etc) with a houmous dip or cottage cheese dip.
Tuna nicoise salad made with 70g tuna and 1 sliced hardboiled egg served on dark salad leaves and 1tbsp oily dressing.
40g mozzarella and 2 large beef tomatoes, sliced, drizzled with pesto or with basil leaves scattered over it. Serve with a thin slice of bruschetta
3tbsp chilli with salad, sliced tomatoes or vegetables (no potatoes)
Cold salmon, 1dsp crème fraiche and fresh dill. Serve with 2 heads of crisp little gem lettuce and 1tbsp mustard dressing

Dinner
Mixed stir-fried vegetables (any amount) with tbsp cashew nuts, soy sauce - and 30g tofu, Quorn or chicken pieces.
Grilled small beef steak fillet with cooked peas, spinach and carrots.
Medium portion steak and kidney pie, beef stew or meat curry with 2 tbsp rice. Side salad of tomatoes and cucumber
Cook 90g linguine and toss in chilli oil. Side salad.
Large jacket potato with sour cream and chives. Serve with salad of peppers, radishes, beetroot, bamboo shoots, spinach and tomatoes. Drizzled with balsamic vinegar
Small portion cheese and tomato bake. Layer cooked vegetables (eg. mashed carrot and swede, then tinned chopped tomatoes, then broccoli and cauliflower). Top with fresh tomato slices and grate over 30g cheese. Bake in moderate oven for 20 minutes then turn up the heat to grill the cheese.
Dessert
4 whole apricots baked in sherry and served with yoghurt
Baked whole apple filled with sultanas.
Portion of fresh fruit salad.