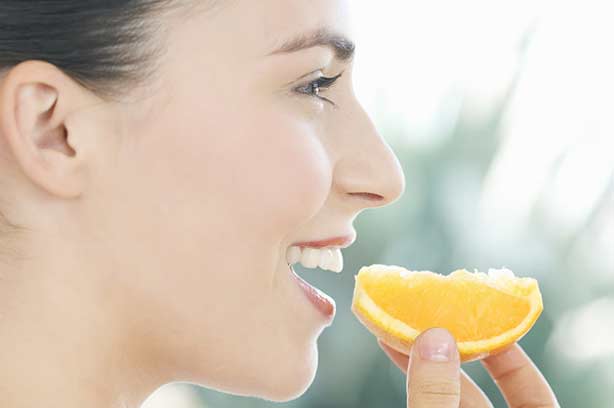 Continued below...
Your 7-day slimmer diet

Day 1
Breakfast
Strawberry smoothie
Blend together:
100g fresh or frozen strawberries
1 small banana
1 small pot of plain yogurt
150ml skimmed milk or soya milk
Or, for a speedy option Sainsbury's and Tesco also make ready-to-blend frozen smoothie mixes
Lunch
½ carton (about 300ml) fresh Sweet potato or butternut squash soup
1 slice granary bread with Flora spread
Dinner
200g Stir-fry strips of beef with stir-fried baby vegetables.
Plus 6 small boiled new potatoes.
Day 2
Breakfast
40g Bran flakes
1 peach, sliced
3 Brazil nuts, crushed
200ml skimmed or soya milk
Lunch
Bagel filled with 50g fresh salmon and a little cream cheese Or half a melon filled with prawns.
Dinner
Lemon chicken with pasta
100g cooked, chopped chicken
Juice of a fresh lemon
1 tbsp Greek yoghurt
1tbsp tomato puree
¼ cucumber, chopped finely
Mix the chicken, lemon, tomato puree and cucumber with the yoghurt.
Cook 115g wholewheat pasta until done, drain and add to the cold ingredients. Add Tabasco to taste, and serve immediately as a warm salad.