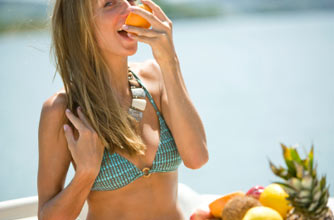 Continued below...
Day 3
Breakfast
3 eggs, scrambled, on one slice of granary bread.
Grapefruit and orange segments
Lunch
Sweet and sour mixed salad with tuna
Make a large salad of red and yellow peppers, cut small, watercress, 5 sliced strawberries, 6 halved black grapes, ½ orange, segmented, slices of cucumber and a sliced celery stick, 6 broken walnuts and 3 halved baby tomatoes. Add a small can of drained tuna and mix thoroughly with 1tbsp vinaigrette dressing.
Dinner
Oven-roasted salmon fillet with roasted baby tomatoes and a mash of sweet potato and carrot with swede.
Day 4
Breakfast
30g oats soaked in 200ml skimmed. Add 1dsp wheatgerm, drizzle honey, grated apple and tbsp plain low fat yogurt
Lunch
Mozzarella and tomato salad with croutons
Slice 3 large plum tomatoes and layer with 60g sliced mozzarella on a bed of salad leaves. Drizzle 1tsp pesto over and sprinkle with a handful of garlic and black pepper croutons (bought).
Dinner
200g Baked potato with small can of tuna or 100g prawns with 1tbsp of low fat mayonnaise. Serve on plenty of salad.