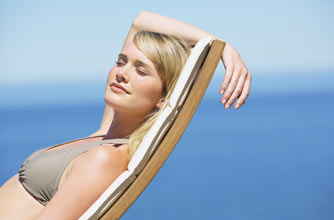 Continued below...
Day 5
Breakfast
Honey yoghurt swirl
100g frozen or fresh blueberries blended with small pot plain yoghurt, swirl over 1tbsp runny honey and top with 1tbsp sunflower seeds. Have a glass fresh orange juice.
Lunch
1-2 poached eggs on 2 slices granary toast add a handful of grilled mushrooms and tomatoes and spread the toast with olive oil spread. OR hardboiled egg sandwich with watercress and 2 slices granary
Dinner
Baked salmon with pesto crust, stir-fried baby vegetables.
Day 6

Breakfast
30g sugar-free muesli with 1tbsp hazelnuts, 1tbsp blueberries and 250ml skimmed milk or 1tbsp plain low-fat yogurt
Lunch
Half a carton fresh Carrot and coriander soup with 2 tbsp croutons
Dinner
Small fillet steak, grilled with a Diane sauce (6 sliced mushrooms with 1tbsp crème fraiche added and 1-2 tbsp brandy). Mashed sweet potato or butternut squash and a tomato and watercress salad.
Day 7
Breakfast
3 eggs scrambled. Small pot low-fat yogurt
Lunch
Cold salmon or chicken with salad
Dinner
Half a melon filled with prawns as a starter
Small fillet steak grilled with salad OR Baked salmon with fresh steamed vegetables.