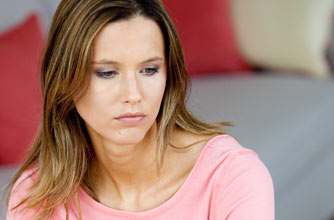 Here, our sister magazine Woman's Own explains the facts on
miscarriage
and how you can reduce your risk - plus reader Alison shares her story.
A baby that dies at 24 weeks of pregnancy or later is classed as a stillbirth. Before that, a miscarriage.
At least 300 British pregnancies a day end in miscarriage or stillbirth.
A woman aged 30 has a 12 per cent chance of miscarriage. In her early 40s this rises to 41 per cent. Past 45 it goes up to 75 per cent.
Older women are at greater risk of chromosomal abnormalities and fibroids, both of which may increase their risk of miscarriage. Being overweight also increases your risk of complications.
How to reduce your risk
Charity Tommy's advises all mums-to-be to do the following as part of their pregnancy...
Don't smoke - it can affect your baby's growth and the health of your placenta. Drugs and alcohol are also linked to an increase in complications.
Report any bleeding or abnormal abdominal pain immediately.
Avoid the risk of infections - such as salmonella (from raw eggs) and listeria (from unpasteurised cheeses)
Go to all your antenatal appointments - monitoring can pick up problems early.
Be aware of your baby's movements - if they noticeably slow down, seek advice from your midwife or maternity unit straight away.
Talk to your midwife about risk factors for stillbirth. If you are at higher risk, your pregnancy care should take this into account.
'I'll never forget the baby I lost'
Alison Durham, 33, from Aberdeen, is married to Tim, 39, and a full-time mum to Grace, four, and Ryan, one.
'Tim and I suffered 3 early miscarriages before Grace was born in September 2006. When I held my little girl, I thought our luck had changed.
'18 months later, I was 5 months pregnant again and looking forward to giving Grace a sibling.
'Then we discovered at the 20-week scan that the little girl I was carrying had serious heart defects. We were told to go back the following week to find out more and it was then we discovered our baby had died in the womb.
'So, at 21 weeks and 4 days, I had to go through the trauma of labour and delivery to bring her little body into the world. We called her Caitlin, and when the midwife brought her to me, wrapped in a blanket and placed in a Moses basket, I held, kissed and cherished her for hours.
'I couldn't bear to let her go.
'Our pastor blessed her and we had a little funeral for her, Tim carrying her tiny coffin to the grave. The midwife took hand and foot prints. Now I wear Caitlin's handprint on a necklace. It's only 1 inch long.
'6 months later, I was pregnant again. It was a very anxious time and I had lots of extra scans to make sure there were no problems. Ryan was born in September 2009.
'He and Grace have brought us so much joy, but I still feel pain when I think of Caitlin. I can still remember what she felt like to hold, and I don't want those memories to fade - they're all I have of her.'
Continued below...
Where to go for help
For advice, support and bereavement counselling after pregnancy loss or stillbirth, contact
uk-sands.org
(020 7436 5881) or
tommys.org
(0800 0147 800).
Where to next?
-
Coping with miscarriage
-
Common pregnancy worries
-
More on miscarriage