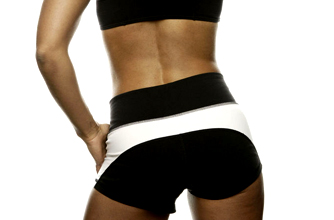 Continued below...
Spine curl with scarf
Pippa Middleton is a big pilates fan. For a quick, try-at-home move, pilates expert Lynne Robinson recommends this exercise.
Lie on your back with you knees bent, feet a hip width apart and parallel with each other.
Tie a scarf around your thighs. Press gently outwards into the scarf as you do the exercise.
'Using the scarf makes your bottom work harder,' says Lynne.
Breathe in deeply, then as you breathe out gently, draw up the muscles of your pelvic floor until your lower abdominal area hollows.
Then gradually roll your spine up off the mat, bone by bone, until you have reached your shoulder blades.
Breathe in and, as you breathe out, wheel your spine back down, vertebra by vertebra. Relax.
Repeat up to eight times.
Where to next?
- 10 ways to firm your bum
- Best jeans for a big bum
- Reduce the size of your bum